The 25 th Annual Meeting of Chinese Society of Dermatology (CSD) during April 24 to 28, 2019, marked a historical success in Zhuhai International Convention and Exhibition Center in Guangdong province. Under the theme "leading the academic trend, creating our future together", the meeting received 2,146 abstract submissions and attracted unprecedentedly 10+ thousands of registered attendees and industrial partners, as well as staffs and volunteers.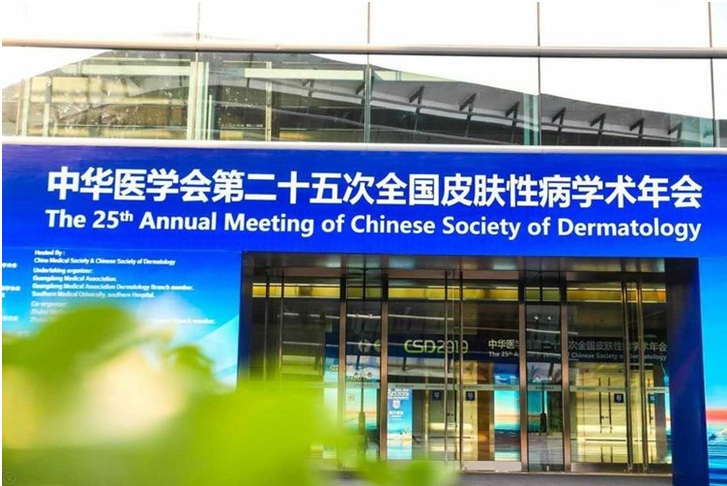 Layout of the meeting venue
On the morning of April 26, the grand opening ceremony was unveiled by a special English song adapted from Welcome to Beijing . Led by Chinese Academy of Engineering (CAE) academicians Dr. Hongduo Chen and Dr. Wanqing Liao, CSD standing committee members and 16 young dermatologists representing Chinese Dermatologists generation after generation voiced their determination and confidence with sonorous singing. Meanwhile, Dr. Hongduo Chen and Dr. Wanqing Liao declaimed a passionate speech to highlight Beijing's bidding for 2023 World Congress of Dermatology.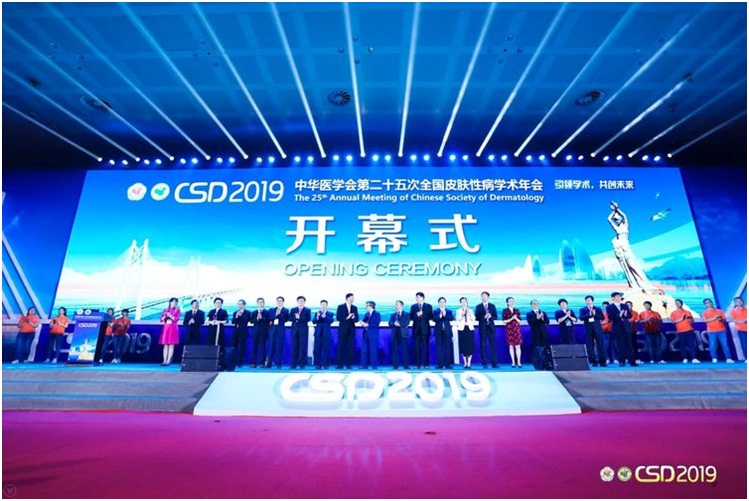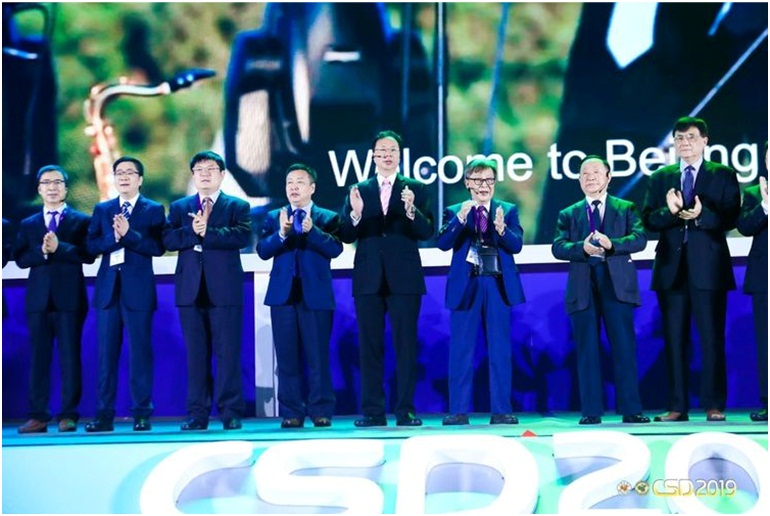 Chorus on the opening ceremony: Welcome to Beijing
On the opening ceremony, CSD president Prof. Qianjin Lu conveyed his warm welcome and gratitude to participants coming from all over the country and delivered a speech entitled "Chinese Dermatology stepping forward to the world". In his speech, Prof. Lu reported major efforts of CSD in 2018 and plans in 2019, in terms of clinical research, CME projects and World Skin Health Day activities, etc.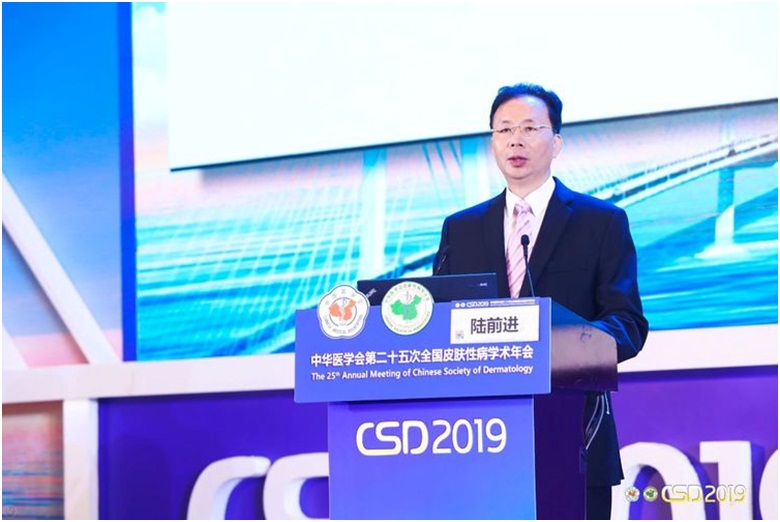 CSD president Prof. Qianjin Lu delivered a working report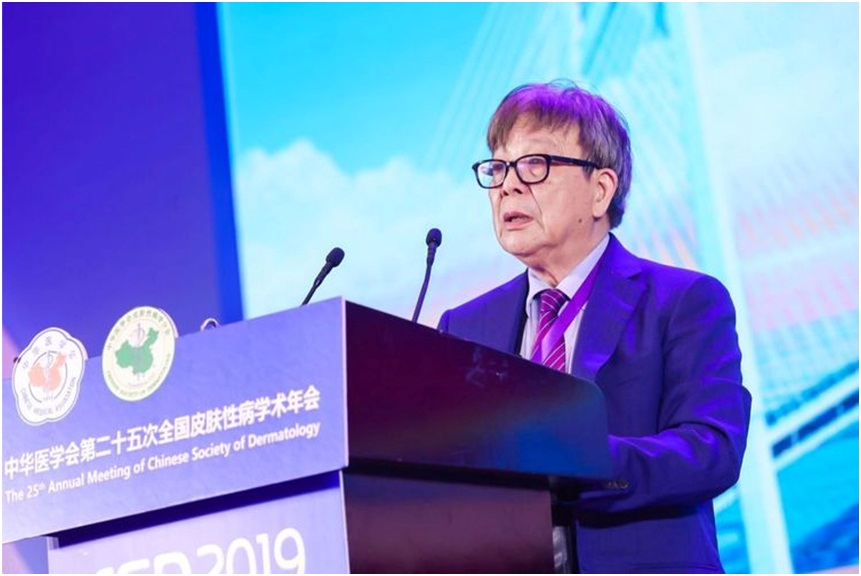 CAE academician Dr. Hongduo Chen addressed the opening ceremony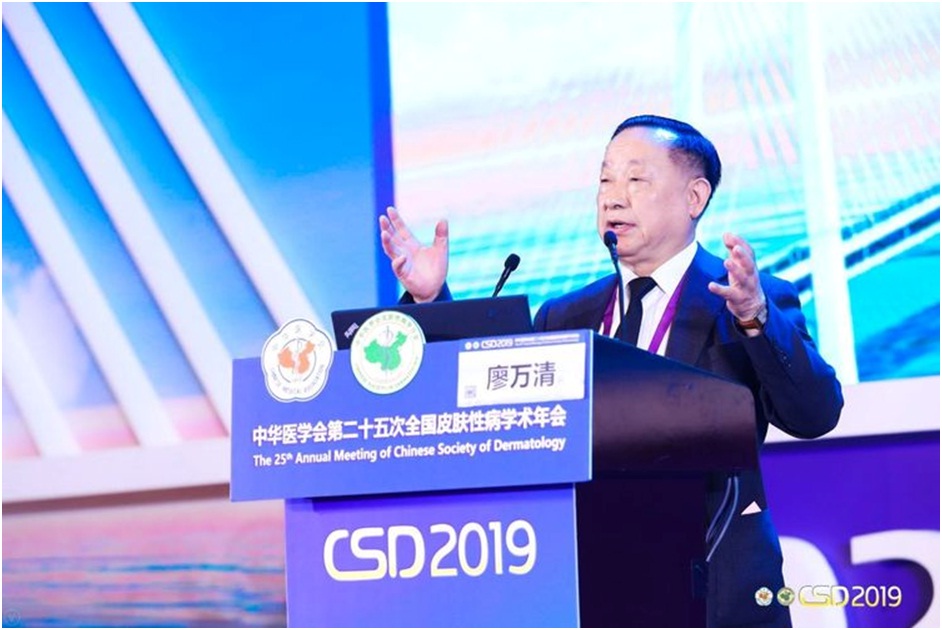 CAE academician Dr. Wanqing Liao addressed the opening ceremony
This annual meeting encompassed 1 plenary convention and 18 concurrent venues, presenting 160 scientific programs structured into 748 lectures or CME courses. Plenty of time was left to Q & A session, so that speakers had in-depth communications and interactions to the audience.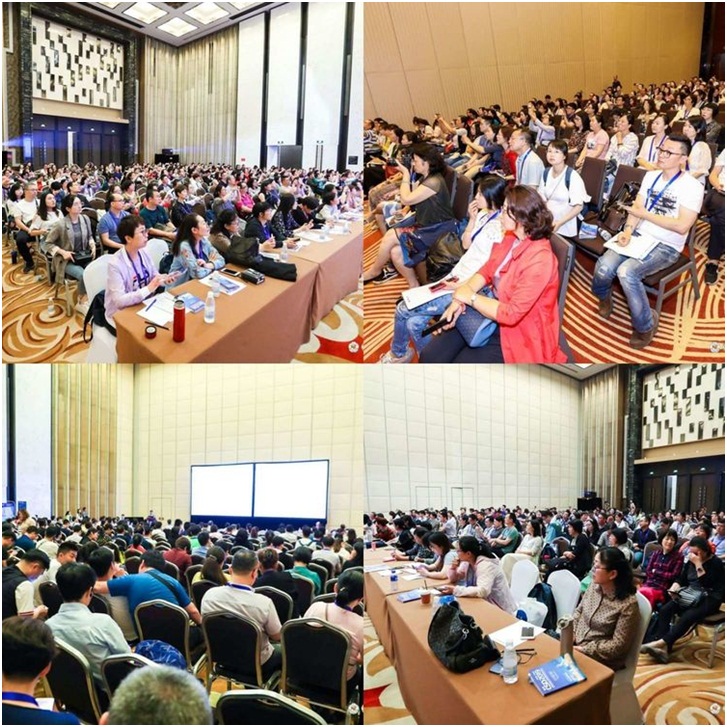 Concurrent venues full of diligent audience
This annual meeting continued most classic programs welcomed by participants and added some innovative programs, such as "Pathological diagnosis of inflammatory skin diseases & Ackerman memorial session", "The Greater Bay session", "Prize quiz of special cases", "Translational medicine session", "New perspectives, opinions and measurements session", "Multi-disciplinary treatment session", "Clinical research (design of epidemiological surveys and clinical drug trials)", and "Voice of Chinese Dermatology", etc. To improve primary-level dermatologists' knowledge and capability to diagnose and treat questionable or severe skin diseases, this annual meeting added a session to introduce "how to identify a first-reported case" to help them improve the skills of analyzing and managing questionable and difficult cases.
To help researchers lead high quality clinical trials meeting international standards, this meeting arranged 4 international sessions, in which 29 international academic leaders brought to the audience the most cutting-edge research in the world. Audience enthusiastically joined the discussions, and the interactions were highly praised by both the speaker and audience.
The meeting also staged 4 important special reports: The ubiquitous scientific research by CAE academician Dr. Guang Ning; Multiphoton Dermatology by Professor Harvey Lui; AIE Materials for Biomedical Applications by Chinese Academy of Science (CAS) academician Dr. Benzhong Tang and The Latest Annual Progress of Dermatology by Prof. Gang Wang.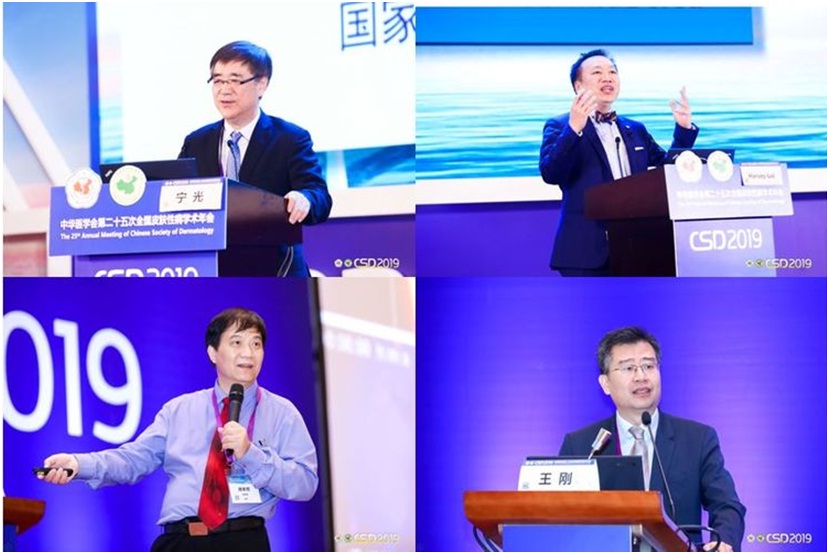 Special reports
The meeting granted "The most influential research award of 2018" for the first time, to Prof. Chunying Li from Xijing Hospital, Fourth Military Medical University (the first prize), Prof. Yong Cui from China-Japan Friendship Hospital (the second prize) and Prof. Zhiming Li from The First Affiliated Hospital of Wenzhou Medical University (the third prize). CAE academicians Dr. Hongduo Chen, Dr. Wanqing Liao and CSD president Prof. Qianjin Lu presented the awards to three winners.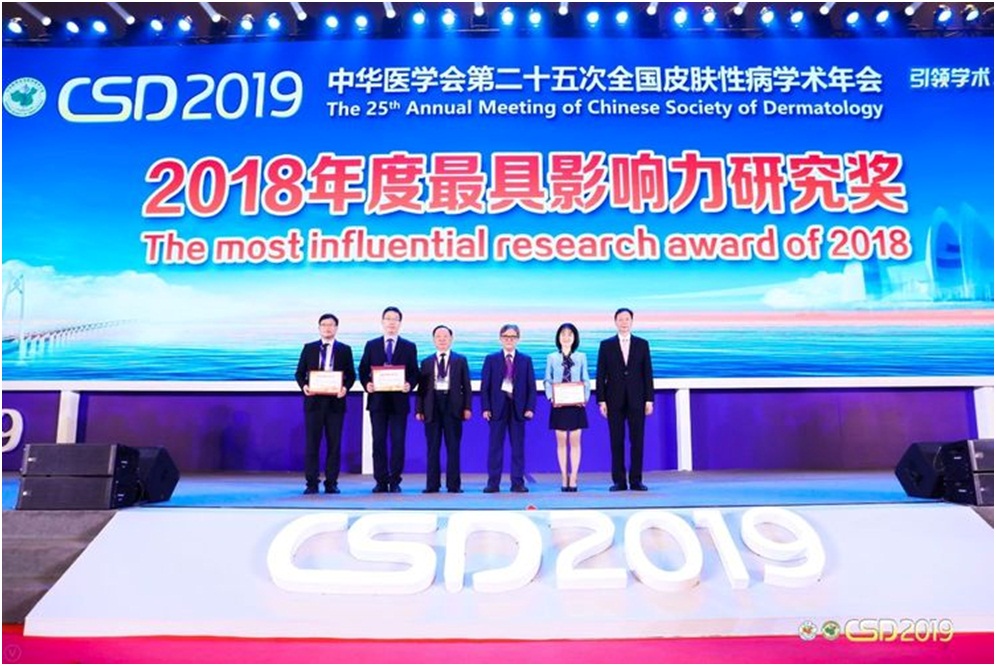 Award ceremony of the most influential research award of 2018
Other 7 awards, including "Outstanding young physician award of 2018", "The best clinical case award of 2018", "The best academic organizer award", "2019 the best participation award", "CSD Dermatology Challenge award", "CSD teaching competition award", and "Excellent volunteer award" were also given to contributors.
The 25 th Annual Meeting of Chinese Society of Dermatology concluded on the morning of April 28, 2019. CSD president-elect Prof. Xinghua Gao addressed the closing ceremony, conveying gratitude to Chinese Medical Association for the guidance and support to CSD, to all dermatologists and departments for their participation and supports; to industrial partners for their generosity; to the careful preparation work by local volunteers led by Prof. Kang Zeng. There is no end to learning. Prof. Xinghua Gao announced the next annual meeting will be held in Hangzhou.

CSD president-elect and head of organizing committee addressed the closing ceremony

See you next year in Hangzhou
News and photos by: Wenlian Liang; Changxing Li, Kai Han;
Reviewed by: Kang Zeng, Ning Zhong, Bo Cheng, Qianjin Lu.