On the evening of March 1, 2019, CSD held a comm reception to promote its bidding for 25th WCD in Washington Marriott Marquis Hotel. This is the third time CSD presented its bid since American Academy of Dermatology 2018 Annual Meeting in San Diego.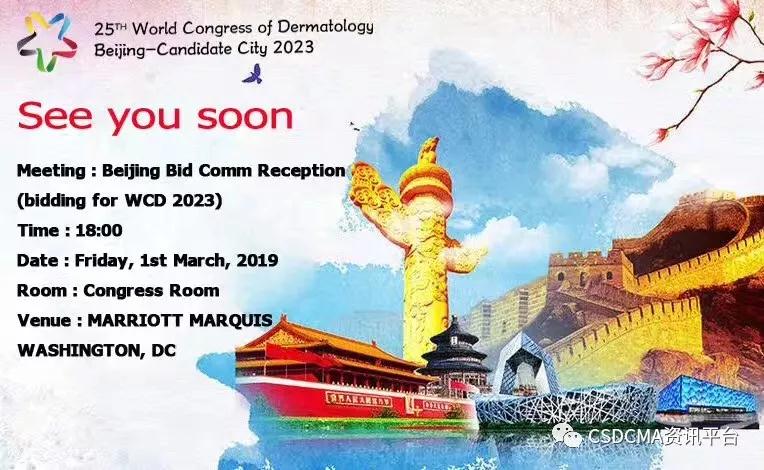 CSD honorary chairman, CAE academician Prof. Hongduo Chen, the 15th Chairman Prof. Qianjin Lu, chairman-elect Prof. Xinghua Gao, Vice secretary-general Prof. Zhirong Yao, the 12th chairman Prof. Xuejun Zhang, the 13th chairman Jianzhong Zhang, the 15th standing committee members Prof. Quanzhong Liu, Prof. Lin Ma, the 15th committee members Prof. Xiaojing Kang, Prof. Shanshan Li, and other prominent Chinese dermatologists including Prof. Hang Li, Prof. Xu Yao, Prof. Qing Guo, Prof. Zhu Shen, Prof. Shenqiu Li, Prof. Zhimiao Lin and Prof. Jianping Tang and many industrial partners participated this reception.
ILDS president Dr. Lui, Secretary general Dr. Bolognia, representative of North American Chinese dermatologists Prof. Youwen Zou, board members of European Academy of Dermatology and Venerology, American Academy of Dermatology (AAD) former president Dr. Lim, current president Suzanne Olbricht and president -elect George J. Hruza, president of the Ibero-Latin American College of Dermatology (CILAD) Ricardo Pérez-Alfonzo, CILAD congress president Dr. Cunha, president of Iranian Society of Dermatology Mohammad Ali Nilforoush Zadeh, president of Italian Society of Dermatology Giovanni Pellacani and secretary general Dr. Ketty Peris, president of the Argentine Society of Dermatology Cristina Pascutto and other 100+ dermatologists from the US, Europe, Asia, Latin America and Africa joined the event.
Prof. Qianjin Lu opened the reception by conveying friendly greetings and warm welcome on behalf of CSD. Prof. Hongduo Chen introduced Beijing to all attendees about its history, culture and speedy modernization, with an emphasis on its uniqueness and strength in hosting WCD. Then Prof. Jianzhong Zhang presented an enthusiastic remark, and interpreted the gift, a red scarf, from the bidding committee as a wish for good luck. The good luck of Beijing is at everyone's hand. His remarks were responded heatedly by all attendees. Finally, Prof. Lu concluded the meeting with a summary that Beijing has the strong will to bid for WCD, and once again called for supports to Beijing. After the ceremony, Chinese dermatologists communicated with colleagues from all over the world, expressing our friendliness and warm welcome.

The reception was a great success. Once again, it showcased the confident, unswerving, open-minded and friendly image of Chinese dermatologists, our longstanding wish to hold the WCD, as well as the friendliness and hospitality of Chinese people to the world. This event further improved the scholarly influence of Chinese dermatology in the world.

News and photos by Dr. Yu Liu and Dr. Heng Yin