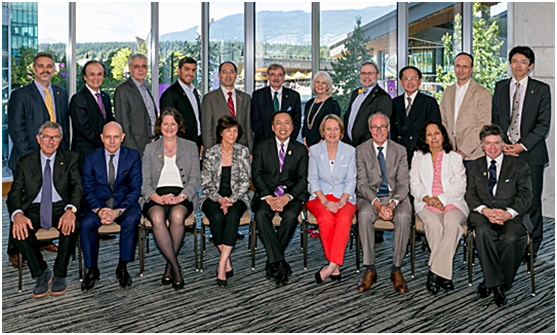 New Board of Directors of ILDS
June 2015. Vancouver, Canada
In developing countries with limited resources, there has always been enormous inequity with regards to the scarce healthcare services and resources available for the diagnosis and management of common skin diseases for the huge populations in need. This inequity also applies to the inadequate availability of modern advances in medicine for the care of these populations. Addressing this global maldistribution of dermatologic resources was one of the reasons for establishing the International League of Dermatological Societies (ILDS) as the global body for dermatology.
This league is a confederation of dermatological societies. The proposal for its formation occurred in 1930 during the 8 th International Congress of Dermatology (ICD) held in Copenhagen, Denmark, and this proposal was subsequently approved during the 9 th ICD in 1935. Although the major goal of the ILDS at that time was to ensure the sustainability of World Congresses of Dermatology (Table 1), the current objectives are to:
· Stimulate on a global basis the cooperation of societies of dermatology and societies interested in cutaneous medicine and biology;
· Encourage the worldwide advancement of dermatological education, care, and science;
· Promote personal and professional relations amongst dermatologists from around the world;
· Represent dermatology in international health organizations;
· Organize a World Congress of Dermatology every four (4) years.
Additional goals and activities that have emerged over time include assisting dermatologists on a global basis in providing care for those who suffer from skin disorders, especially in resource-poor regions. An essential component of/in meeting this objective is providing "on-site" dermatologic education and practical clinical training in developing countries via the International Foundation of Dermatology (IFD).
These functions and goals of the ILDS were beautifully stated by Dr. Marion Sulzberger in his article in the Manual of the ILDS: "The International Committee of Dermatology and our International Congresses are like desmosomes that bind the dermatologists of all nations and all the specialized subdivisions of dermatology and syphilology into a functional, cohesive, yet ever-changing, dynamic entity. Without them, our specialty would be substantially diminished".